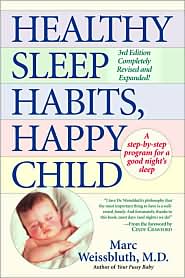 Sleep is all I think about these days. No, it's not MY lack of sleep that's constantly on my mind (though I long and dream for the day when I can sleep through the night again). I'm constantly trying to help Andy develop healthy sleep habits. I've heard so many people swear by the book "Healthy Sleep Habits, Happy Child," and I love and feel good about using the principles it teaches. So, I've pretty much been trying to do everything it says since Day 1.
He's never been a very good sleeper, but we've worked on one thing after another and he's gotten better. He now actually sleeps at night, which is AMAZING. I can pretty much plan on him going to bed about 7 PM and waking up about 7 AM (with a couple feedings in there). However, he's never been good at taking naps. They used to be about 15 min. long and we've worked to him getting to 40 min. or so. Anyway, I've been long awaiting the day we'd get to the chapter titled "Months 4-12" in the book, so that I could begin an actual sleep schedule and hopefully help him take more substantial naps. Part of that plan includes letting him cry it out so he can learn to fall asleep unassisted. We tried the Ferber Method of this at about 6 weeks (as the book calls it, "graduated extinction") but didn't have much success and decided it might be a little early. Now we're doing what the book calls "total extinction," where we let him cry it out as long as it takes at night without going in, and with naps we let him cry an entire hour before we'll go in. The point being that he learns that no matter how long he cries we won't come in, and he just needs to go to sleep. (I know some people think this is horribly mean, etc....but we choose to think it means we care about him enough to let him sleep, which is what he really needs.)
Before we started all this, I had lots of people tell me their experience with it and how it just took their child a few days to learn, and then they wouldn't cry anymore. Consequently, I had high hopes. (Although, knowing that Cam and I both were horrendous sleepers as children, I should have known better.) Like I said, night time actually isn't an issue for him. He maybe cries about 15 min. and gives in. But naps are a whole other story--we've been doing it for about 10 days and I am ready to pull my hair out. It absolutely breaks my heart to hear him cry. I spend so much of my day sitting on my bed (which is just about the furthest I can get away from Andy's room) with my door shut, with the monitor on, but turned all the way down, so I can see it light up to indicate if noise is coming from his room but I won't hear it. Sometimes he only cries for 15 min. before he sleeps, but it's not uncommon for him to go the entire hour. And even if he falls asleep, he'll usually only sleep for 15-30 min. and then I have to let him cry some more in hopes he'll fall asleep for longer. And I still worry about his night feedings. Should I not feed him at one of them so he'll stop waking up? But what if he's hungry? Blah, blah, blah. All I think about is his sleep. There are definitely times when I see some improvements, but I feel like they should be far more significant. I feel like he should have caught on by now? Perhaps he's just incredibly stubborn like his dad? He certainly couldn't have gotten the stubborn gene from me. ;)
Anyway. I know I'm an overly worried and concerned first-time parent. This is such a small issue in the grand scheme of things, but I swear it is consuming my life. I wish he would just learn to nap a little bit better!